CollPlant Biotechnologies (Nasdaq: CLGN), a regenerative and aesthetics medicine company developing innovative technologies and products for tissue regeneration and organ manufacturing, today announced that its recombinant human collagen (rhCollagen)-based bioink was used successfully by researchers from Israel's Technion Institute of Technology to create a 3D bioprinted implantable tissue containing a network of blood vessels capable of supplying blood to the implanted tissue.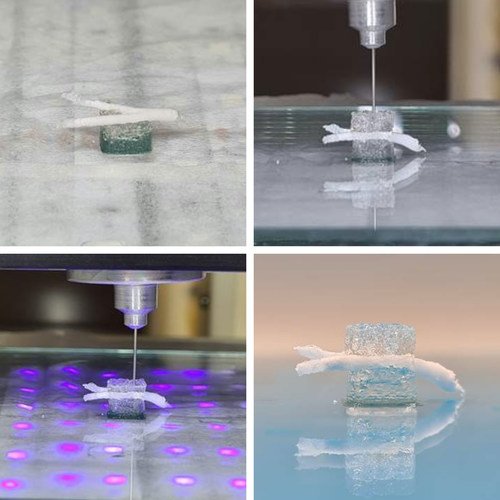 Printing of patient-specific coronary flap for implantation using rhCollagen-based BioInk. Image from Advanced Materials, 2021, DOI: (10.1002/adma.202102661)
"We are excited with the impressive and innovative work of our collaborators at the Technion," said Yehiel Tal, CollPlant's CEO. "The combination of rhCollagen-based bioink and patient's own cells has the potential to create patient-specific tissues that are suitable for transplantation and eliminate the risk of implant rejection. The results of this study further substantiate the vast potential of rhCollagen-based bioinks for use in 3D bioprinting applications including in-vitro 3D models and regenerative medicine," added Mr. Tal.
Professor Shulamit Levenberg from the Biomedical Engineering Department at the Technion stated: "The ability to create vascularized tissue constructs using human collagen from modified plants rather than animal collagen is a very promising step towards development of fully lab-grown implantable tissues."
Engineered tissues require incorporating a vascular network to support transport of oxygen, nutrients and waste, without which cells cannot survive. In a study recently published in Advanced Materials, a team of researchers led by Professor Shulamit Levenberg who specializes in tissue engineering, used CollPlant's rhCollagen-based bioink to 3D print an artificial tissue with a functional, hierarchical blood vessel network. Following transplantation into a rat, blood was able to successfully flow through the transplanted tissue via the blood vessel network and support the long term survival and function of cells within the scaffold.
As the fundamental building block in human tissues, Type I collagen provides multiple biological signals, including mechanical and chemical signals mediating cell binding and interactions with other extracellular matrix molecules and growth factors. In contrast to previous studies where collagen from animals has been used to form scaffolds, the researchers at the Technion used CollPlant's rhcollagen-based BioInk owing to its unique physical properties, outstanding biological functionality and excellent compatibility with photopolymerization 3D printing.