Piramal Pharma Solutions Strengthens North American Capabilities
Piramal Pharma Solutions Strengthens North American Capabilities
14 January 2022 | Friday | News
---
- The extension includes the Gerteis Macro-Pactor®, recognized as the market leader in roller compaction technology - Improves oral formulation capabilities of solid doses of PPS in North America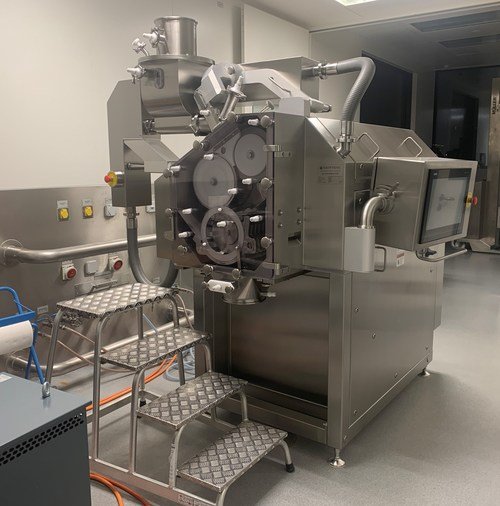 Gerteis Macro-Pactor®
The Pharma Solutions (PPS) division of Piramal Enterprises Limited, a leading research, development and contract manufacturing (CDMO) organization, today announced that the company has added commercial-scale/development roller compaction technology to its Sellersville pharmaceuticals plant, in Pennsylvania. The addition of the Gerteis Macro-Pactor®, designed to handle both commercial/development scale roller compaction, enhances the site's dry granulation and scaling capabilities. Market data indicate that more than 20% of the new chemical entities developed use roller compaction technology in their development or commercialization. In addition, roller compaction is an excellent technology for the processing of certain active pharmaceutical ingredients (APIs). Densification of dry mixed powders is an essential ability that is needed to treat products with poor API flow properties and cases where api is sensitive to moisture. Wet granulation is sometimes used to overcome these problems, but many APIs are not conducive to wet granulation. In such cases, roller compaction offers a viable option to densify materials and generate granules that can then be transformed into capsules or tablets.
Peter DeYoung, CEO of Piramal Pharma Solutions, said: "As part of our efforts to provide comprehensive drug development and manufacturing services to our customers in North America and around the world, we continuously conduct an internal due diligence of our capabilities. Following the acquisition of our Sellersville site, we identified the need to improve our dry granulation technology and put in place a plan to achieve this. This is only a small part of the effort to recognize the needs of customers around the world and provide appropriate solutions. »
The Gerteis Macro-Pactor is a versatile equipment, which allows to handle batches of 100 to 300 grams for small-scale development as well as larger volumes when used in continuous mode. Based on customer feedback and suggestions, it is recognized as an excellent solution for small-scale development requiring roller compaction technology and larger-scale clinical and commercial batches, as compounds progress through the development cycle.